Ma olin alles väga väike plikatirts, kui nägin ühte filmi, kus olid suured mustad koerad. Ma olevat kohe emale öelnud, et nad on minu omad. Jõudsin otsusele, et kui saan suureks ja mul on oma maja, siis muretsen endale koera, kelle tõuks on saksa dogi. Kuna teadsin et dogid tahavad palju liikuda siis südametunnistus ei lubanud neid ühismajja tuua. Dogi tuli minu ellu 1987. aasta suvel, kui sain endale maja suure aia ja metsaga. See dogi oli Belli de Grei.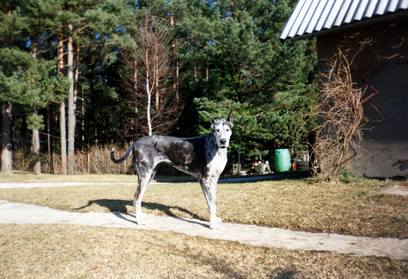 Belli kaudu sain selgeks, et mind huvitab näitustel käimine ja aretus – tema standardile mittevastav värvus aga ei võimaldanud mul tegelda kummagagi. Hakkasin siis otsima omale võimalikku näituse- ja aretuskoera ning kuulsin huvitavast arlekiinpesakonnast. Kutsikate isa, Rootsist toodud Kingsize Destination Estonia, kandis endas väljapaistvaid inglise Helmlake ja Batworth ning saksa Imperial liine; kutsikate ema Karmen-Nal, aga oli poola, tšehhi ja venemaa väljapaistvate koerte järglane. Kutsikaid nähes oli kohe selge, et pesakonna emane on minu koer. Nii tuli majja Kerri-Karolain-Allegria (Kerri), kes, nagu ta nimigi ütleb, oli meile aastaid suureks rõõmuks.
Kerri oli esimene Eestis kasvatud saksa dogi, kes tuli rahvusvaheliseks tšempioniks (International Champion) ja paistis silma ka oma taibukusega. Näiteks osales ta kutsikana jälituskatsetel ja sai suurepäraselt hakkama!
Kerrile sobiva kavaleri leidmine ei olnud nii lihtne. Lõpuks jäi valik pidama Avdelin-Orestesel, kes oli ka korduvalt Eestis näitustel käinud ning meeldis mulle oma tugeva luustiku ja toekusega, milles parasjagu elegantsi. Esimene pesakonna järglaste seast sirgus kaks Eesti tšempionit.
Teist korda Kerrile kaaslast leida oli palju lihtsam, sest Kingsize Tidy Typhoon oli selleks ajaks suurepäraseks isaseks, kelles olid ühendatud väärikus, suursuguses ja mis peaasi – stiil. Kerri ja Tidy klappisid imehästi ja tulemuseks oli B-pesakond, millest koos isase omanikuga otsustasime emase omale jätta. Me ei ole seda otsust kahetsenud, sest SI Beeta kasvas imekauniks koeraks, kelles dogile iseloomulik jõulisus on ühendatud emasele sobiliku graatsia ja leebe iseloomuga. Beeta on näitustel esinenud edukalt, konkureerides pidevalt ringis oma vanemate poolõdedega. Ja meil on nagu Vestmani ja Piibelehega – kord on Vestman peal ja Piibeleht all, siis jälle vastupidi. Beeta tulemused on igati aukartustäratavad mis dogi puhul üsna harv nähtus.
Beetale kavaleri leidsime Soomest. Great-Bel Excellency kannab endas parimaid Kingsize ja Imperial liine, sobides hästi meie aretusse ja tulemuseks olid kaks toredat kutsikat.
XXX
When I was a little girl, I saw the movie where were a big black dogs. Then I said to my mother that they are mine. So I decided, when I grow up and I have my own house I will take a dog whose breed is Great Dane.SinceI knew that Great Danes want do move a lot then my conscience did not allow me to bring them to the apartment house. The Great Dane came into my life in the summer of 1987 when I got a house with large garden and the forest. That Great Dane was Belli de Grei.
Through Belli I became clear that I am interested in going to shows and breeding- however the non- compliance of the color did not allow me to deal with either. When I started to look for myself a potential show and breeding dog, I heard about interesting harlequin litter. Father of the puppies, Kingsize Destination Estonia brought from Sweden, carries the outstanding English Helmlake and Batworth and German Imperial lines; mother of the puppies Karmen- Nal, was successor of the Poland, Czech Republic and Russian most outstanding dogs. After seeing the puppies it was immediately clear that my dog is the female of the litter. So came to our house Kerri- Karolain- Allegria (Kerri), who was a great joy for us for many years, as the name says.
Kerri was the first Great Dane grown in Estonia, she was an International Champion and stood out with her intelligent. For example she took part in intelligence test when she was puppy and she was great!
Finding a suitable partner for Kerri was not so easy. Final choice was the Avdelin- Orestes, who was repeatedly visited Estonian shows and who I liked because his strong skeletal which is suitably elegant. Two successors of the first litter became Estonian Champions.
Second time it was much easier to find a partner for Kerri, because the Kingsize Tidy Typhoon was the excellent male at this time, whom had combined dignity, genteelness and the main thing- style. Kerri and Tidy matched beautifully and the result was the B- litter, which along with the owners of the male we decided to keep the female puppy. We have not regretted that decision, because the SI Beeta grew into beautiful dog, who had characteristic energy what was combined for a suitable female grace and gentle nature. Beeta has history of of successful shows, competing constantly her older half- sisters. And we are like Vestman and Piibeleht- once is Vestman on top and Piibeleht below and then contrary. Beeta results were awesome in every way, which is quite a rare phenomenon for Great Dane.
Suitable partner for Beeta was in Finland. Great- Bel Excellency carries the best Kingsize and Imperial lines, which fits well with our breeding and the results were two lovely puppies.